2023 ANDIS' COPY THE CUT CHALLENGE
Barbers and barbering artists were well represented at America's Beauty Show, and we had some of the top educators and influencers in the industry. Throughout the whole weekend, there was a vintage barbering stage on the show floor that featured your favorite barbers creating the newest looks live in the round.

ANDIS' COPY THE CUT CHALLENGE
Andis Virtual Education presented the next "COPY THE CUT" CHALLENGE at ABS.
The final look mirroring the copied look, use of tools, and the overall final look for a total of 40 points available per judge for each competitor. See below for complete rules and regulations.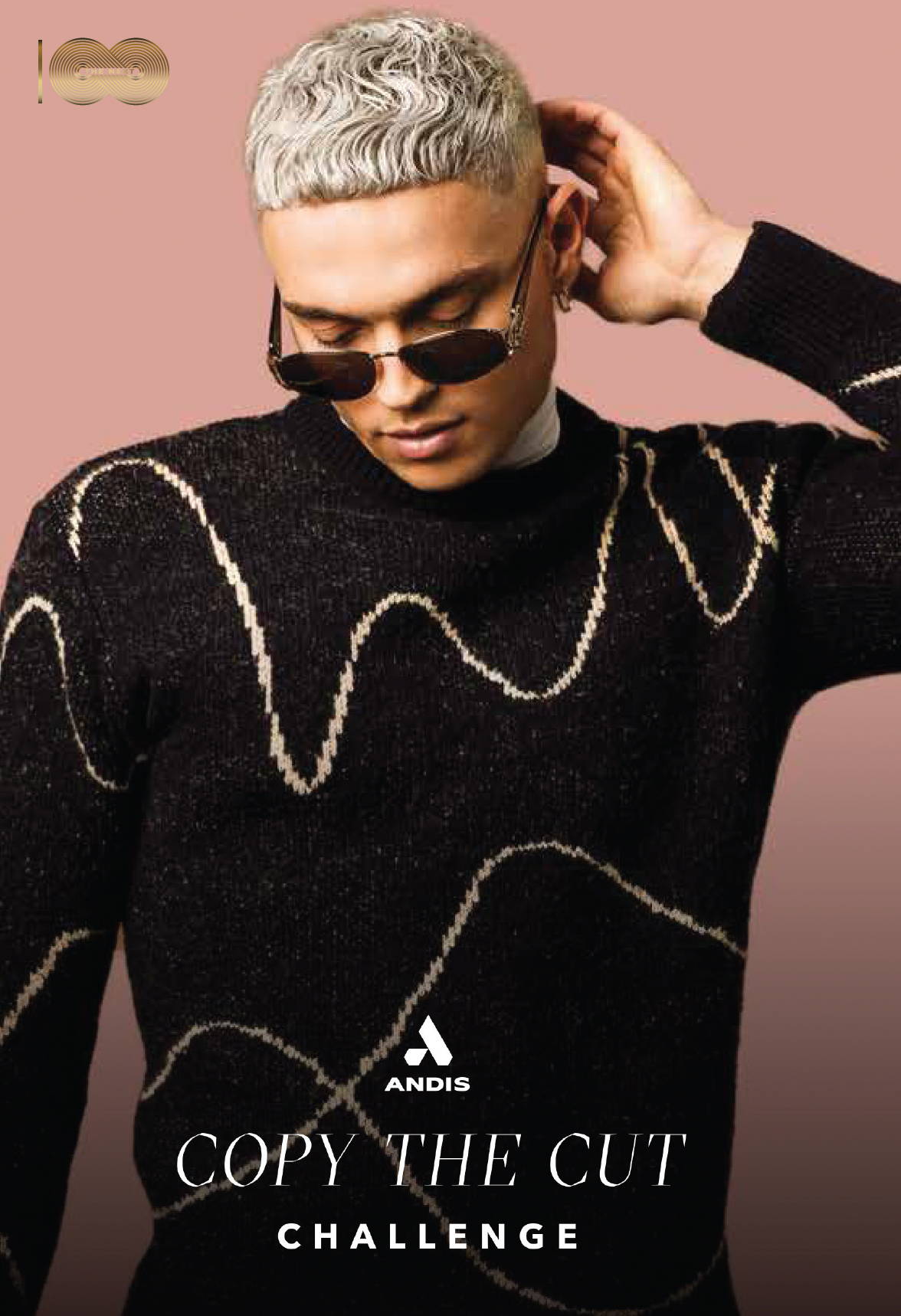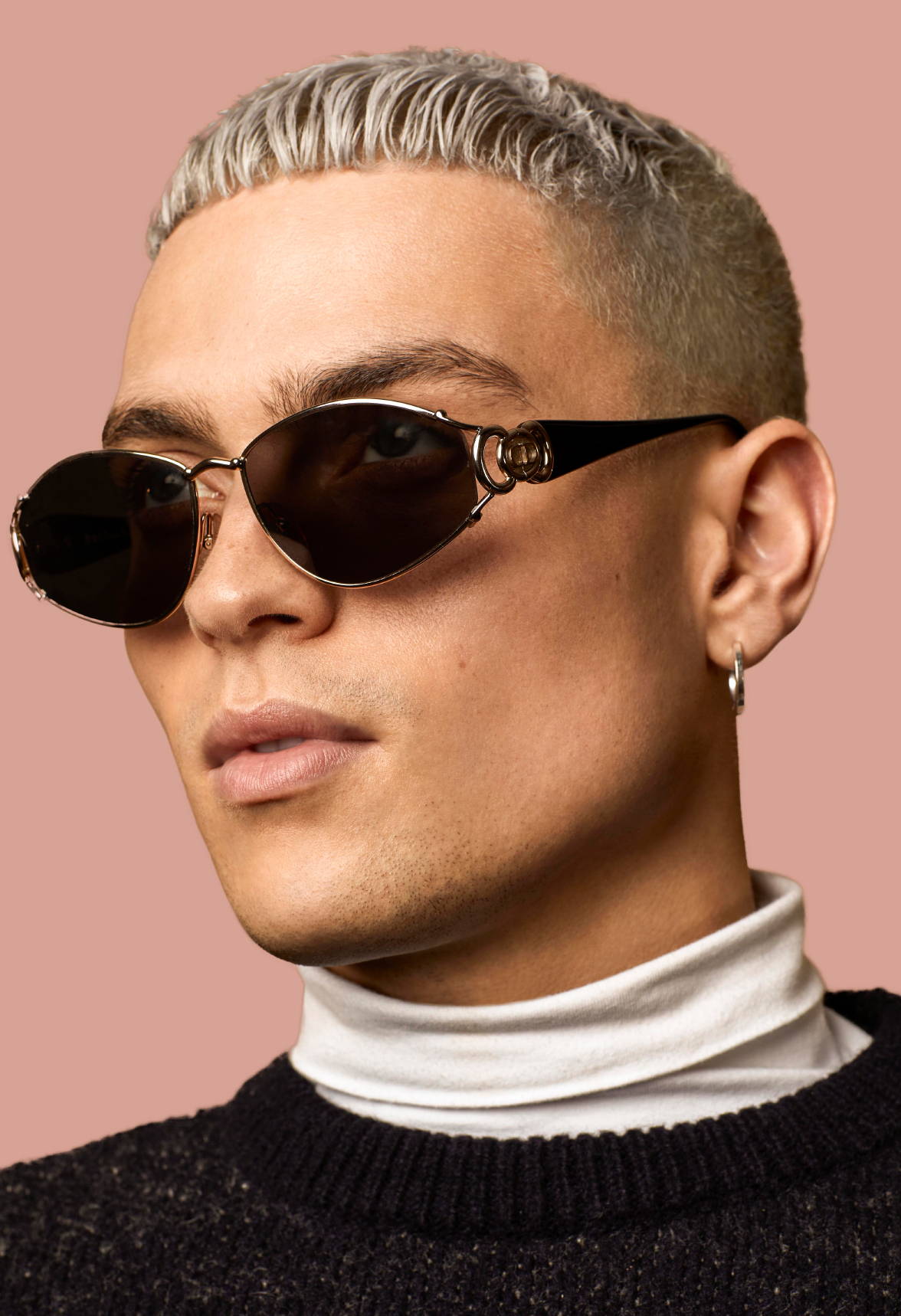 The London Crop combines elements of precision cutting and sharp detailing. Created using a soft clipper fade throughout the sides and back, this look finishes with a bold, detailed front fringe that demands attention.
COMPETITION KITS TO INCLUDE:
• 1 x Andis Tool Tote
• 1 x Andis Towel
• 1 x Andis Cape  
• 1 x Blade Brush
• 1 x Cool Care
• 1 x White Clipper Comb
• 1 x Grey Taper Comb  
• 1 x Master Cordless Premium Comb Attachments
• 1 x Master Cordless Clipper (Silver)
• 1 x GTX EXO Trimmer
COMPETITION RULES:
Each competitor must provide a live model – no mannequins. All competitors and models must be eighteen (18) years of age or older. Photo ID for both competitor and model is required.
At the start of the competition, the competitors will have 10 minutes to set up their station and will receive their assortment of Andis® tools. During this time competitors can adjust the blades of the clippers provided if they are able to perform this task in the given set-up time of 10 minutes. There will not be any extra time given for blade adjustments, nor will the start of the competition be delayed for this reason.
All barbering tools must be done exclusively with the Andis® tools provided. The use of straight edge razors, razor blades and/or shears is allowed for detailing and cutting the top. If any other clippers or trimmers are used than the Andis tools provided, the competitor will be disqualified.
Competitors will have 40 minutes to complete the haircut and finished style and are required to remove at least ½ inch of hair. "Clippers down" will be announced at the close of the competition and you must stop cutting and/or styling even if the look is not complete. At their discretion, judges may disqualify a participant for cutting beyond the time limit.
All models' hair must be cut during the competition. Competitors are not allowed to cut, trim, shape or preset model's hair before the competition begins. All cut hair MUST be left on the floor and participants MUST stay at their station for the duration of the competition and judging.
Competitors are encouraged to bring their own finishing tools and products including combs, brushes, spray bottles with water as these will NOT be provided. The use of semi-permanent color and permanent color are allowed but must be done in advance. The use of light color sprays and chalks is allowed.
PRIZE:
These will be digital "gift cards" we will send the winners (We will need to collect their name and email address to send this electronically once the competition is over from our internal team!)
3 x Andis Medium Show Tote
1st
PLACE: beSPOKE Trimmer & $300 shopping spree on
andis.com
2ND
PLACE: beSPOKE Trimmer & $200 shopping spree on
andis.com
3RD
PLACE: beSPOKE Trimmer & $100 shopping spree on
andis.com
OFFICIAL RULES
COPY THE CUT CHALLENGE
OFFICIAL RULES. NO PURCHASE NECESSARY.
The Copy the Cut Challenge (the "Contest") will award First Place, Second Place, and Third place with cash and product prizes. Winning entrants as determined by the judges appointed by Andis Company the "Sponsor" of the Contest and sometimes referred to in these Official Rules as "Andis"). An individual participating in any aspect of the Contest is sometimes referred to in these Official Rules as an entrant (or "Entrant"). Submitting an entry constitutes your full and unconditional agreement to and acceptance of these Official Rules and the decisions of the Sponsor and judges, which shall be final and binding on all matters relating to the Contest.
Eligibility: The Contest is open only to legal residents of the 50 United States and the District of Columbia who are at least 18 years old and of the legal age of majority or older in the jurisdiction in which they reside. Employees of Andis or its subsidiaries, divisions, or affiliates, educators, suppliers, distributors and advertising, promotional and judging agencies, including Ideas That Evoke (collectively the "Contest Indemnities") and their immediate family members (spouses, parents, children, and siblings and their spouses) and household members of each (whether related or not), are not eligible to participate or win. Void where prohibited by law. All federal, state, and local laws and regulations apply.
Limit one entry per person.
Timing: The Contest begins at 3:30pm, and ends 4:15pm (the "Contest Period").
How to Enter: Register americasbeautyshow.com – Registration fee $45
Judging of Entries; Notification of Potential Winner: At the conclusion of the Contest Period, on or about 4:15pm, judges selected by Sponsor will review the Entries and determine the top scoring Entry (which will be deemed the winner subject to verification and compliance with the Official Rules), based on the following criteria:
1) Overall look
2) Quality of fade
3) Precision of lining
4) Quality of styling/finishing techniques
Each prize winner further agrees that Sponsor may release his or her name to persons requesting the names of the winners of the Contest. Non-compliance or the return of any prize or prize notification as undeliverable may result in disqualification and selection of an alternate winner. A potential winner may be requested to provide Sponsor with proof that the potential winner is the authorized account holder of the Contest Site associated with the selected entry. If a dispute as to identification of an entrant for a particular entry cannot be resolved, Sponsor may deem the entry ineligible.Entry Requirements: Entries must comply with these Official Rules. Without limitation, this means that the Entry must comply with these requirements:
1. Copy the featured haircut for this competition. You will receive a link in your registration email for Andis Copy the Cut
2. Entrants may only use Andis Brand tools for this competition. Other manufacturers or brands of tools will result in disqualification.
3. Hair products, hair colors, or fibers of any kind may be used but the labels must be removed or covered with white paper.
4. Haircut must be completed in the allotted competition timeframe. The time allotted for this event will be 45min.
5. Model must have a similar texture of hair as the model for the haircut that is being copied.
6. Model must have at least two weeks' worth of hair growth that will be cut off during the competition.
7. Hair can be prepared with combing, brushing, or permanent dye such as blonde or anyndeposited color on hair only. TINTING OF THE SKIN WITH SEMI-PERMANENT COLOR OR ANYTHING SIMILAR CANNOT BE DONE PRIOR TO THE COMPETITION.
8. Entrants must be logged in online, checked in with judges, and have a model pre-judged before the competition goes live in order to compete. Direct Messages must be sent to private judge's Instagram to verify yourself prior to competition start. @Andiscopythecut.
9. Haircuts will be judged in 4 categories: Overall look, quality of fade, the precision of lining, and quality of styling/finishing techniques.
10. Entrants understand that all decisions made by judges are final. Any Entry not in compliance with the above or that does not meet the Contest requirements will be disqualified.
Rights in Entries: By entering the Contest, you agree that (a) you have read or had read to you these Official Rules and are in agreement with them, (b) you have received permission for the use of the likeness and image of all identifiable people appearing in your submitted Entry and to grant to Andis the rights contemplated in the Official Rules. By submitting an Entry in connection with the Contest you represent and warrant to Andis that (i) your Entry is your own original work and that you have the sole right to submit it to the Contest; (ii) your Entry does not violate in any way rights of third parties, including but not limited to copyright and other intellectual property, privacy or publicity rights; (iii) your Entry does not violate any applicable laws; (iv) you have obtained all necessary licenses or permissions from all applicable third parties required for the production and submission of the Entry in the Contest and use by Andis as contemplated in these Official Rules; (v) the posting and/or display of your Entry or other use by Andis or those deriving rights through Andis will not violate the rights of any parties or otherwise breach any provision of any applicable law or regulation; (vi) Andis has your irrevocable permission for the posting of any and all information included in your Entry in connection with any permitted use of your Entry; and (vii) use and posting of the Entry or any part of the Entry provided by you in any manner in connection with the Contest or as otherwise permitted by these Official Rules may be made without any notice, review, approval, consideration or compensation (except for any awarded prize as contemplated in these Official Rules), regardless of whether your Entry is a winning Entry. By submitting your Entry to Andis in connection with the Contest you agree to and thereby waive any and all moral rights that exist in your Entry and any derivative works made therefrom. All entrants hereby grant to Andis an everlasting, royalty-free, assignable, irrevocable, unrestricted license to use, utilize, replicate, alter, adapt, modify, publish, perform, broadcast, translate, produce derivative works from, distribute, present, display, sublicense and exercise all copyright and other intellectual property and other rights with respect to each Entry worldwide and/or to include, in part or in whole, each Entry in other works in any media now known or later created, anywhere and forever, including in connection
with promoting and advertising of and by Andis, without further review, notice, approval, consideration or compensation. Except where legally prohibited, by submitting your Entry you irrevocably agree that your full name, city and state of residence, phone number, salon/barber shop name if applicable may be used in connection with the permitted use of the rights contemplated by this paragraph. In Andis' sole discretion, anyone referenced in the Entry (or the parent/legal guardian of any minors) may be required to execute and return consent forms / releases confirming the representations, warranties and grants of rights contemplated in the Official Rules.
Prize: After applicable verification and subject to compliance with these Official Rules, all prizes determined by the judges pursuant to the process described in these Official Rules. No transfer or substitution of prize permitted except where required by law. Prize is nontransferable and no substitution of prize by winner is allowed. Sponsor may substitute prize and Sponsor reserves the right to award prize (or portion of prize) of equal or greater value, in its sole discretion. Sponsor and the Contest Parties assume no responsibility or liability for damages, losses, or injury resulting from acceptance or use of prize or participation in the Contest. Sponsor reserves the right to request from any entrant additional documentation it reasonably believes is necessary to validate any Entry or to award any prize. All federal, state, local, municipal and provincial taxes and any expenses, costs, duties or fees associated with the acceptance and/or use of any prize are the sole responsibility of the winner. General Conditions: By participating, Entrants agree to these Official Rules and the decisions of Sponsor with respect to the Contest and the awarding of any prize, which shall be final and binding in all respects. Sponsor and its agents are not responsible for late or lost entries, technical, hardware, software or device malfunctions of any kind, lost or unavailable network connections, or failed, incorrect, incomplete, inaccurate, garbled or delayed electronic communications or by any of the equipment or programming associated with or utilized in this Contest, or by any human error which may occur in the processing of the Entries in this Contest, or for any liability for damage to any computer system resulting from participation in, or accessing or downloading information or applications in connection with this Contest. Sponsor's failure to enforce any term of these Official Rules shall not constitute a waiver of that provision. If, for any reason, the Contest is not capable of running as planned, including infection by computer virus, bugs, tampering, unauthorized intervention, fraud, technical failures, or any other causes which corrupt or affect the administration, security, fairness, integrity or proper conduct of the Contest process, then Sponsor reserves the right at its sole discretion to cancel or modify the Contest. If a court of competent jurisdiction deems any provision of these Official Rules invalid or unenforceable, such provisions shall be enforced to the maximum extent permitted and the remaining provisions of the Official Rules shall remain in full force and effect. Unsportsmanlike Conduct: Sponsor reserves the right in its sole discretion to disqualify any individual that tampers or attempts to tamper with the operation of the Contest; violates the Official Rules, or acts in an unsportsmanlike or disruptive manner, or with intent to annoy, abuse, threaten or harass any other person. Any use or attempt to use multiple e-mail accounts or other tactics to enter more than the stated limit of this Contest may result in disqualification and all associated Entries will be void. Any use of robotic, automatic, macro, programmed or similar entry or voting methods will void all such entries or votes by such methods and persons using any similar methods will be disqualified. Each online entry submission and vote must be entered by the individual entrant or visitor as the case may be. Limitations of Liability and Release: By participating in any aspect of the contest, you agree to the full extent permitted by law to release and hold harmless sponsor, the contest parties, and their respective parent, subsidiaries, affiliated entities, agents, and all of their respective shareholders, officers, directors, employees and assigns, members, representatives and agents (collectively, the "released parties"), from and against any claim or cause of action arising out of participation in any part of the contest (including, without limitation, preparing for or participating in or submitting any entry and/or from any contest related activity) or receipt or use of any prize, including property damage, personal injury or death. Each entrant further agrees that in any cause of action, the released parties' liability will be limited to the out-of-pocket cost of participating in the contest, and in no event shall the contest parties be liable for attorneys' fees, punitive, consequential, direct or indirect damages and each entrant waives the right to claim any damages whatsoever. You hereby waive all rights and release each of the released parties from any claim or cause of action, whether now known or unknown, of any kind, including but not limited to defamation, invasion of right to privacy, publicity or personality or any similar matter, relating to the contest, the operation thereof, or any entry, or based upon or relating to the use and exploitation of the entry as contemplated herein, either intentionally or otherwise. You hereby represent and warrant that you have read these official rules and are fully familiar with them. Applicable Laws and Jurisdiction: Issues concerning the construction, validity, interpretation and enforceability of these Official Rules shall be governed by the laws of the State of Wisconsin. All disputes arising out of or connected with this Contest will be resolved individually, and without resort to class action, exclusively by the exclusive personal jurisdiction and venue of the state and federal courts encompassing Milwaukee, Wisconsin. Should there be a conflict between the laws of the State of Wisconsin and any other laws, the conflict will be resolved in favor of the laws of the State of Wisconsin. All judgments or awards shall be limited to actual out-of-pocket damages (excluding attorneys' fees) associated with participation in this Contest and shall not include any indirect, punitive, incidental and/or consequential damages. Winners List: For the names of the prize winners, available approximately 4 weeks after the determination and within six weeks of the end of the Contest Period, send a self-addressed stamped envelope (except where not required by applicable law) to Andis at the Contest Address. Sponsor:
The Sponsor of the Contest is Andis Company, 1800 Renaissance Blvd, Sturtevant WI 53177, USA.